What is CloudM Backup?
CloudM Backup is a simple but powerful backup and recovery solution for Google Workspace that protects against accidental deletion and malicious users, while providing quick and easy mass restoration. Our unique backup technology gives you complete control and ownership of where and how your data is stored. And is the most cost-effective and secure way to protect it.
Backup is currently supported for:
Gmail 

Drive

Shared Drives
Why use CloudM to backup your Google Workspace data?
Automated Retention Policies
Automatically assign retention policies to dynamic groups of users, keeping you 100% compliant at all times.
Industry-Leading Data Sync
Unique data sync that only takes a backup of new or updated files and emails. Keeping your backup up to date with backup intervals of every 60 minutes for Mail and Drive.
Granular Version Control and Backup
Restore any version of your files. Providing you quick, granular access to all your backups.
Quick and Easy Restore
Simple and intuitive access to all your backups. Making restoration quick and easy when the pressure is on.
Bring Your Own Storage
Store data in your own AWS or GCS storage bucket. Resulting in cost-effective backups with zero vendor lock-in.
24/7 Support
Our global 24/7 support team is always on hand to help and our knowledge base is full of useful guides and tips so we've always got you covered. With a customer satisfaction score of 95%, our global team of experts are here to help you have a successful experience. It's our promise to get back to you in 12 hours or less.
CloudM v Google Native Solutions
| | CloudM | Google Vault | Google Admin |
| --- | --- | --- | --- |
| Gmail Backup | Full | Limited: Emails recovered in MBOX or PST format. Versioning included. No label structure preservation. | Limited: No recovery on mail deleted after 25 days. No versioning. Limitations on some label restorations. |
| Google Drive & Shared Drives Backup | Full | Limited: Deleted files retained. Versioning only for Google-native files. Directory structures not restored | Limited |
| Recovery Capabilities | Full: Restore to original owner or specified user. Restore on individual, team or domain-wide level. | No: No direct restore to Google Workspace. All backed up data deleted when user is deleted from Google Workspace. | Limited |
| Storage location options | Full Control: Configure your own Google or Microsoft storage location from one of 26 regions. | Managed by Google | Managed by Google |
Secure and Proven Technology
CloudM Backup is a new module but the core technology underpinning it isn't. Backups are powered by our core migration technology, tried and tested across our existing modules (CloudM Migrate, Automate and Archive) to ensure both speed and security.
Enterprise grade. Trusted and used by large enterprises such as Netflix, Veolia, Uber and Google themselves.

Full end-to-end encryption (AES 256)

ISO 27001 certified

Over 12 years of data migration experience

Over 80 million migrations completed across 107 countries

99.8% success rate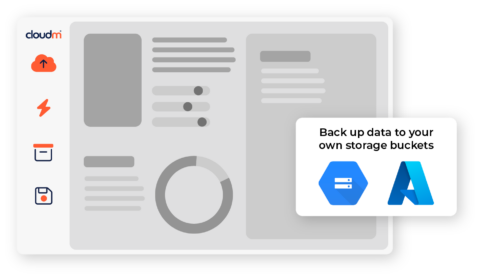 Getting Started
Interested in backing up data to Google Workspace? Schedule a demo with our migration specialists.