Blog
Top 5 Features of Google Calendar
Top 5 Features of Google Calendar
From booking smart appointments to keeping your colleagues up to date and even looking after yourself, Google Calendar has some game-changing features to make you even more efficient. In 2022, Google Workspace represents the new working culture. One that says work hard, but take care of yourself. This is CloudM's quick guide to our favorite Google Calendars features. (If you want to read about Microsoft's features instead, check out this blog.)
Focus Time
If there was a word to describe the digital age, it would be busy. There is lots to do and a vision with ambition, but not enough time to sit down and achieve. One of the brightest features of Google Calendar is Focus Time, which allows users to carve out time for themselves so other users are unable to use that time slot for meetings. If you've got a backlog of unfinished jobs that need completing, this is the perfect feature to get you to the bottom of your to-do list.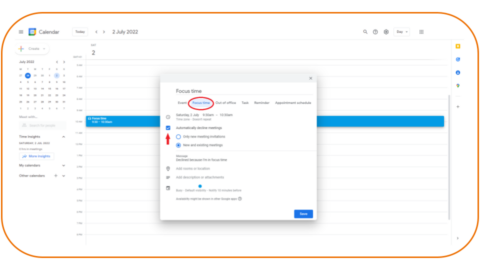 Appointment Slots
Have you struggled in the past with having a more formal appointment booking process on Google Workspace? Look no further than Google Calendar's exciting feature, Appointment Slots. You can now set up blocks of appointments within your calendar so that other users can reserve meetings hassle-free. In today's busy world, this is a useful tool if you need to be accessible for meetings or one-to-ones.
Office Hours
Google's simple but brilliant Office Hours feature doesn't just let your colleagues know your work hours if they search your calendar to book a meeting, but actually automatically declines meetings outside of your allocated hours so that your time off can actually be your time off. This is a brilliant tool to make sure you're getting the most out of your time while at work. It's important in this fast-paced digital age to really make the most of your working hours so you're not squeezing those all-important meetings into your personal time.
Speedy Meetings
One of the least talked about Google Calendar Features is called Speedy Meetings. This feature shaves five or ten minutes off every meeting scheduled (depending on its length) to give you allocated breaks throughout the day. This means you have a chance to grab a coffee or have those much-needed short rests between meetings. Speedy Meetings help you to keep wellness a priority without losing track of your workload and productivity.
Find a Time
It's never been easier to book a meeting with a busy colleague. Google Calendar's intuitive Find a Time feature allows you to match up with your peer's calendar to find the perfect time to meet. Find a Time is another simple but effective tool that gets a tedious task (such as coordinating diaries) done within just a few seconds.
Those are just a few of our top tips for making the most of your Google Calendar. With a huge focus on supportive features, these will all help you be that ambitious employee without burning the candle at both ends.
While you could just use your calendar to keep a note of all your meetings, it can be used for so much more. If you take advantage of all of Google's incredible features, you might find the impact to be eye-opening.
If you're interested in migrating over to Google, don't hesitate to get in touch with our brilliant team. And while you're here, if you are curious about what impressive Calendar features Microsoft has to offer, check out our alternative blog.