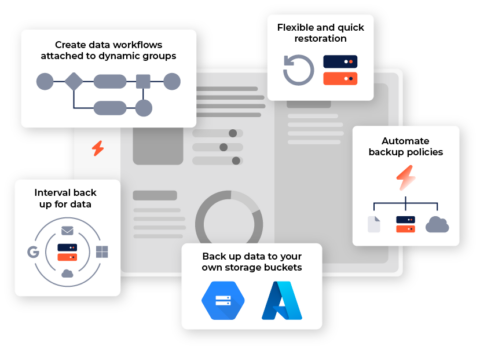 Backup Protect your organization's data from accidental deletion and malicious users while enabling mass restoration in the event of a cyber attack. Request a demo
Your data, secured.
First-party solutions to back up your data such as Google Vault and Exchange Online Archive are available. But these native solutions can't sufficiently protect your organization's data. 
Third-party tools are also available but they require manual policy maintenance and typically lock you into their solution. This makes it difficult to control which provider to use, restricting your freedom to choose where to store your data. 
CloudM Backup provides the protection your organization needs, while helping you automate the process and  take control of your data.
Backup Key Features
Improve your organization's data resilience by protecting against accidental or malicious data deletion.

Enable your organization to restore data quickly and easily in the event of a cyber attack

Take control of your data by hosting backups in your own infrastructure

Automate manual assignment of backup policies
Backup of Google Workspace data in 60 minute intervals for Mail and Drive. Each incremental backup moves only the data that's changed, allowing for shorter times between updates so restoration is available for the most up-to-date versions.

Flexible and quick restore options that can be used en masse or in a granular situation. Quick and easy restore of your data to protect against all potential data loss and minimize disruption to your organization.

Backup your data to your own GCP storage buckets. Control and ownership of your data so you aren't locked into one backup provider. And a reduction in cost for your backup service.

Create data workflows attached to a dynamic group of users so you can automate backup policy assignment. Data retention policies are used to automatically purge data in compliance with regulations. Save time and know your users are being backed up with the correct frequency, increasing your data resilience.
Interested in CloudM's Automate capabilities? Request a demo with our team.