Blog
Improving Offboarding for Google Workspace
See how we've been improving one of our most popular CloudM Automate features
When it comes to our offboarding features, we've had a very busy couple of years
Our dynamic Dev Team has put in the hard work, constantly innovating, to continue to increase the number of automated steps you can add to your leaver's process. Our Google Workspace Offboarding Workflow now has a massive 30+ individual steps that CloudM Automate allows you to process with a single click of a button.
And, the hard work has paid off – It's by far one of the most popular features in the CloudM suite. In 2022 alone, CloudM Automate helped our customers offboard over a million leavers – 1,107,403 over 195 domains to be exact. If an average offboarding takes 25 minutes, that's nearly 50 years worth of manual tasks saved in 12 months alone.
But, success brings its own challenges. As the number of users increased, we also saw the number of support tickets, minor issues and feature requests increase (at the same rate). That's why we put together a specialized group dedicated to improving the offboarding experience for our customers in the following three key areas:
Stability and Performance
When you are offboarding a user, nothing is more annoying than a process failing on its own. Except maybe for the amount of time the process is taking to complete. That is why the first area for improvement we looked at was making the workflows more stable, removing the need for unnecessary manual intervention and speeding up the processes.
Here are a few examples :
If there's a step in the workflow that isn't relevant to the leaver (e.g. they have a license type that doesn't include mail), that step will automatically skip rather than fail the entire workflow, keeping the process moving forward.
CloudM Automate will now automatically retry a failed offboarding step up to 5 times, where appropriate, so you don't have to restart the step manually.
Minor bug fixes and code changes to speed up the transfer of resources such as documents and mail etc, using our award-winning CloudM Migrate technology at its core.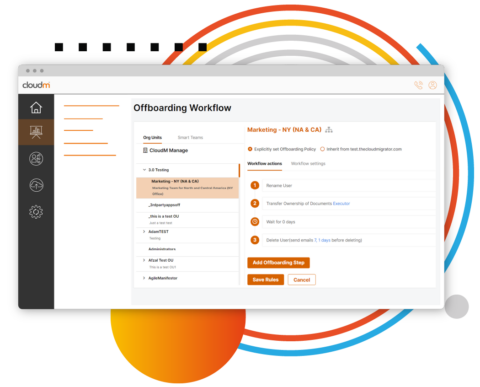 Troubleshooting and Error Reporting
Our brilliant Support Team is always on hand to help CloudM customers (they are literally available 24 / 7) and pride themselves on responding to support requests in record-breaking time.
However, they were seeing more tickets for minor offboarding issues that, quite frankly, were very quick fixes with the correct knowledge and reporting. No one wants to wait hours for a response to a problem they could fix themselves in minutes.
That's why we have made it so much easier for our customers to troubleshoot their own issues, making error reporting more detailed and transparent.
We have added more detailed troubleshooting articles to our Knowledge Base for both Google Workspace and Microsoft 365 offboarding workflows, including expected behaviors and common issues. You can also link directly to the article from the CloudM Automate UI.
When one of the steps that deal with transferring resources fails or errors, you can now see more information about the issue on the offboarding status screen. This includes detailing the resource that has failed and whether the error occurred on the source or destination endpoint so you can quickly troubleshoot and remedy the issue.
You can now export a full error log for the "Transfer Ownership of Documents" step. This means that it's easier to see when multiple documents are causing issues, allowing you to resolve all of them before retrying the step.
More Automation and Options
You didn't think we were just going to stop innovating, did you? The initial focus of the team was to improve the existing offboarding features, but we had some great feedback from our customers and partners about features and options that we couldn't wait to include.
We've added more steps that you can add to your workflows, taking the number of individual steps to over 30, allowing you to automate even more tasks, saving you even more time. The steps we've added include:

Transfer Looker (Google Data) Studio – Transfer the ownership of Looker Studio (previously known as Google Data Studio) data to a specified user.
Preemptively Suspend User – This step will allow you to suspend the user at the start of the offboarding process, preventing them from logging in and accessing any services from the account. This step is ideal for workflows that include custom delays between steps.
Remove Email Forwarding Settings – Emails sent to the email address will no longer be forwarded, stopping a leaver from being able to set up forwarding to a personal account.
We've also been adding additional settings to existing steps, giving you more flexibility and control over the processes. For example, on the "Migrate email" step, we have made it possible to "Disallow Label Truncation" so that if a new label is too long (based on Google limitations), you can decide whether the step fails or continues using an alternative label.
We chatted to James Ford, Senior Software Developer at CloudM, and he said;
"I'm glad we took the time to address some issues and feedback we were getting about our offboarding features. I think that the changes we have implemented will not only make the user experience smoother and more enjoyable, but the behind the scenes updates we've made have put us in an even better position to improve the feature even more over the next few years." To keep up to date with all of the new features being added to CloudM Automate, bookmark the CloudM Automate release notes from our Knowledge Base, or see what we have in the pipeline for 2023 and beyond on our product board. New to CloudM? Why not book a 15 minute discovery call to find out how CloudM Automate, including our onboarding and offboarding features, can save your organization time and money today.